University of Central Asia and Stockholm School of Economics Riga sign agreement of cooperation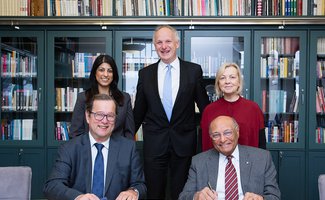 The University of Central Asia (UCA) and the Stockholm School of Economics in Riga (SSE Riga) signed a memorandum of understandingon 14 February 2018 in Riga, Latvia. The intended areas of cooperation include development of curriculum for UCA's undergraduate programme in Economics, faculty and student exchanges as well as research cooperation.
Anders Rydin, Chairman of the SSE Riga Foundation and Dr Shamsh Kassim-Lakha (R), Chairman of the Board of Trustees of UCA signing the Agreement. Standing from L to R: Alisha Rajani, Deputy Director HR, at UCA, Dr Anders Paalzow, President and Rector of SSE Riga, and Dr Diana Pauna, Dean of the School of Arts and Sciences at UCA.
At the signing, Anders Rydin, Chairman of the SSE Riga Foundation, remarked "since 1994 when SSE Riga was established, it has undergone a few important steps in its development, and is now ready to share this experience and expand into Central Asia with this partnership".
Date added: 19.02.2018