Scholarship Awards Ceremony 2021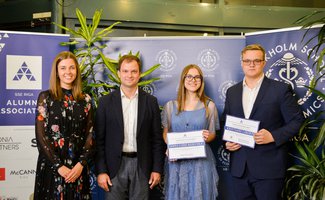 Thank you very much for your generosity!
In October, 2021 the SSE Riga Alumni Association Scholarship Awards Ceremony took place, and 37 students were awarded scholarships with the aim to honour and motivate outstanding performance.
The Alumni Association, generously supported by corporate sponsors and individual donators, provided scholarships totalling EUR 64 200:
–
10 Merit & Need Scholarships
: EUR 43 450
– 10 Admission Scholarships: EUR 20 750
The scholarship amounts range from EUR 2 075 to EUR 5 250.
Additionally, 9 "80-20"-scholarships to Estonian students were awarded by MTÜ SSE Riga Toetusfond, and 8 full scholarships were awarded by SSE Riga.
This year, the total amount of scholarships received reached an impressive EUR 134 750.
Date added: 04.11.2021