Renovation of the façade of the SSE Riga building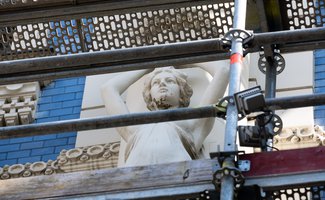 SSE Riga would be honoured to accept donations for the façade repair of our spectacular building. Renovation works will be finished just in time for SSE Riga's 25th Anniversary celebration this autumn.
The SSE Riga building is one of Latvia's Art Nouveau pearls.The renovation will focus on restoring the building's historical sculptures, primarily on the 6th and 7th floors, which are in critical need of repair.
SSE Riga would be honoured to accept donations for the façade repair. These can be made to the following account:
Foundation of Rīgas Ekonomikas augstskola – Stockholm School of Economics in Riga
Registration No: 40008164674
Address: Strēlnieku iela 4A, Riga, LV-1010, Latvia
Bank: AS "SEB Banka"
SWIFT (BIC): UNLALV2X
Account No: LV43UNLA0050016119052
Date added: 25.06.2019