A new examination format for the Strategy course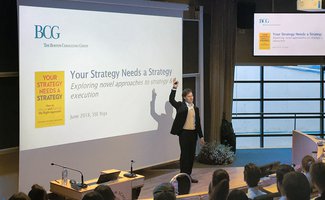 Thank you, alumni, for your support!
A new examination format for the Strategy course brought students closer to the real corporate world challenges
The ultimate challenge in Strategy course this year was the inaugural Boardroom Exercise where students tried putting themselves into the shoes of executives and presented their strategies on ice cream, airlines, and media & entertainment to their Boards.
The Boards consisted of SSE Riga faculty members, members of the SSE Riga Foundation Board, and more than 35 SSE Riga alumni who came back to school to challenge our students' thinking – we are truly grateful to all of them for their time and engagement!
Whilst it may be a while before Year 2s step into executive roles, we encourage them to start thinking like ones from the very beginning.
Date added: 02.07.2018