Networking event for alumni in London_May 2017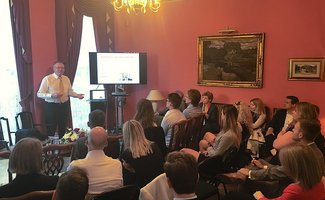 May 2017
Networking event for alumni based in the United Kingdom
SSE Riga has more than 2000 alumni worldwide and from time to time SSE Riga offers various workshops, seminars, and other events especially for its former students. It is also a wonderful opportunity to establish and expand their network of contacts.
In the end of May, networking event for UK Chapter of SSE Riga Alumni was held in the Latvian Embassy in London, United Kingdom. The event was organized with the aim to maintain and strengthen connection with SSE Riga and to provide an opportunity for alumni to meet and network with other alumni living and/or working in the United Kingdom.
Head of Economics Department at SSE Riga Morten Hansen spoke on "Latvia - today the reLAx economy, tomorrow stuck in a middle-income trap?" and Executive Vice President of Public Affairs Anders Alexanderson shared the SSE Riga International development strategy and the newest developments at the School.
Date added: 01.11.2017