Marta Khomyn - Taking the road less travelled from SSE Riga to a doctorate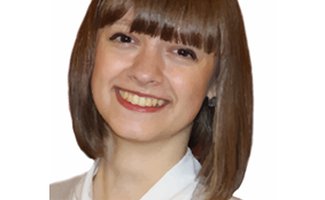 Marta Khomyn, who graduated from SSE Riga in 2014, can probably match some of her globetrotting classmates in places she's been and things she has done. But unlike many SSE Riga grads, who tend to move quickly into middle management or form startups, Marta's "check-ins" in Stockholm, Innsbruck, Washington, DC, and Sydney, Australia, have mainly been academic.
Currently Marta is a doctoral student at the University of Technology in Sydney and reputedly one of the youngest SSE Riga graduates to have moved on to a PhD. Her area of research is a kind of "civil engineering" of finance and economics – market microstructure. It involves sifting through huge amounts of market transaction data to discern how and why prices are formed and to apply this knowledge to keep markets fair and efficient.
"Market microstructure studies what is inside the "black box" of supply and demand," Marta said via Skype from a "sometimes too warm" Southern Hemisphere summer.

Research for better market regulation
She explained that algorithmic trading (in which computer programs generate, route and execute orders) is becoming the dominant form of activity on the world's securities markets. Studying them can help regulators work out means of detecting anomalies in trading behaviour to ensure well-functioning markets.
Marta said that research in this field requires powerful statistical analysis tools. Using big data analysis techniques, market microstructure researchers can study the impact of algorithm trading on markets. However, with almost all trading algorithms being proprietary and therefore secret, researchers can't pick them apart, but only look at their effects on trading patterns.

Inspired by her SSE Riga professor
Marta attributes her interest in market microstructure to her professor at SSE Riga, Tālis Putniņš, who is also a professor at the University of Technology in Sydney and is supervising her doctoral research.
"He also supervised my bachelor thesis (at SSE Riga) on market microstructure, he informed me about the programmes in Sydney. He is an emerging name in market microstructure research," Marta said. To support her studies in Australia, Marta has a scholarship from the Capital Markets Cooperative Research Center (CMCRC) and works for the center as a researcher.
Work with the CMCRC "allows me to work on solving real-life problems and get the hands-on experience I was eager for," Marta said.
The CMCRC helps financial market regulators to ensure market quality and develops software solutions to detect market misconduct. One of its products is the Market Quality Dashboard, which is designed to allow market participants to quantify the economic impact of market design changes on market quality.

Combining an international expert role and academia
Asked about what she wants to do when she finishes her doctoral degree, the SSE Riga graduate from Ukraine says she is looking to work at an international organization and become an expert on issues related to financial markets and their regulation. This could include working for a regulator. Marta has already had a taste of international experience – she's been a short-term consultant with the World Bank in Washington, DC, and her education to date includes a semester at the MCI Management Center in Innsbruck, Austria, a master's degree in finance from the Stockholm School of Economics, and a Wallenberg Fellowship at Georgetown University's School of Foreign Service.
During her time at SSE Riga, Marta was also a teaching assistant, something she liked and hopes to do in the future, maybe even back at SSE Riga as a guest lecturer. "The idea of working in academia in parallel is attractive," she said. Marta also doesn't exclude the possibility of going back to her native Ukraine if an opportunity arose to help design a nascent securities market. For the moment, these are all options as she works toward her doctorate, while many of her classmates are already moving along specific career tracks. "I guess I took a slightly different path from most SSE Riga graduates," Marta said.
Date added: 08.09.2017