Generous Donation of the "Life is Good" team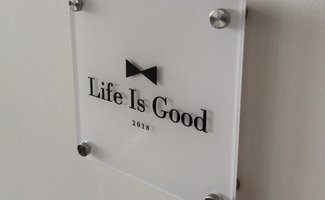 Thanks to the "Life is Good" team formed by Alumni of Stockholm School of Economics in Riga members Zane Kotāne, Jānis Spoģis, Jānis Teteris, Elmārs Prikšāns, Ivo Luka-Indāns and Nils Trapāns, our life is really good!
Through their donations we have improved W32 Auditorium. Other SSE Riga alumni had a chance to enjoy the newly renovated auditorium during the Alumni Event in February. The "Life is Good" donation also helped us to upgrade IT hardware in Room 603.
"Thanks a lot for your very generous donation — it is indeed highly appreciated and adds quality to the SSE Riga educational experience! Your initiative is a very good example of how an initiative by individual alumni could make a difference," admits SSE Riga Rector Anders Paalzow.
Date added: 07.03.2019