Anniversary Class Reunions 2023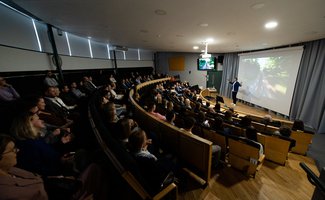 As part of the Homecoming 2023, Anniversary Class Reunions brought together Bachelor and EMBA alumni, and current and former staff in Soros Auditorium for a guest lecture by Carl Honoré, an award-winning Canadian journalist, and international best-selling author.
In his insightful and humorous speech, he made a compelling case for slowing down as a means to live and work better, emphasizing strategies for raising happy kids in the fast-paced modern world. This sentiment resonated with many, underscoring the importance of slowing down for a more balanced life, echoing Carl Honoré's topic.
Alumni were addressed by the Recor of SSE Riga Anders Paalzow and by the President of the Alumni Association Arta Beitāne.
The event concluded with networking and reception.
We really enjoyed seeing our alumni and former staff members at SSE Riga!
Date added: 13.11.2023