Ana Efros - Uses her entrepreneurship experience gained at SSE Riga and helps other women to succeed as entrepreneurs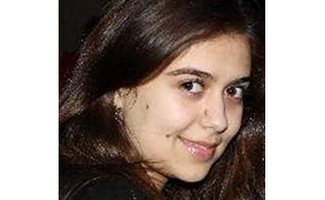 Ana Efros was admitted to the SSE Riga bachelor's programme in 2012, winning in a tough admissions process and receiving the Swedish Government Grant. This is a story about what Ana has been doing since graduating from SSE Riga in 2015 and returning to Moldova.
The tech path not taken took her and 3 girls from Moldova to Silicon Valley
"If I had been presented with information about technology when I was in high school, I might have chosen a tech career. Instead, I am able to give such a chance to other girls," says 2014 SSE Riga graduate Ana Efros from Moldova.
Ana focused her studies in the Latvian capital on management and communication skills and wrote her bachelor's thesis at SSE Riga on marketing techniques for non-profit organizations. "I have always had a soft spot for social causes and non-profits," Ana admits.
Upon returning to Chisinau, Ana got involved in a project to get teenage Moldovan girls, especially girls from rural areas, interested in information technology (IT). It started with a camp that promoted digital education for girls from rural areas and gave them two weeks to find a community problem and solve it with the help of technology by developing a website. Here she met some of the girls she would later mentor as part of the global Technovation Challenge programme that gets girls from many different countries interested in technology and entrepreneurship.

Girls' programme founded by woman executive at Intuit
Technovation was founded by Anuranjita Tewary, an executive at the US IT company Intuit. A graduate of the Massachusetts Institute of Technology (MIT) with a doctorate from Stanford, Tewary started Technovation in 2009.
"I've developed a non-profit programme to teach girls in high school about high-tech entrepreneurship. Girls learn to program mobile apps and work in teams with mentors to write business plans for their app ideas. Each session of the programme culminates in "Pitch Night", during which the students pitch their ideas to venture capitalists (VCs) for a chance to win prizes and have their apps developed into products," Tewary wrote on her LinkedIn page – one of several tech companies she worked for, including Intel and Microsoft.
Ana's role in Technovation is as a regional ambassador for the programme in Moldova after she mentored three Moldovan girls who attended the Technovation World Pitch Summit in San Francisco as a visiting team and presented their project at the App Expo this summer. "Everyone had a passion for technology," Ana said.
She explained that the Technovation selection process in Moldova, as everywhere, was open to teams of up to 5 girls and had to combine an idea for a mobile application (app) and a business model for eventually making it pay off. "The judging criteria are tough, no one makes it gentle just because it is for high school girls," Ana emphasized.
The girls that Ana mentored had come up with an app for disabled people in Moldova, who often spent their days at social workshops where it was possible for them to engage in handicrafts. In turn, many of the things made by the disabled people could be sold online, as there is demand for handmade items both in Moldova and abroad. The app promotes sales of such things made by disabled artisans and tells the story behind it.

Fine tuning an app to sell things made by disabled artisans
The idea made it to World Pitch Summit in San Francisco, where the Moldovan team participated in various workshops and were also given advice and constructive criticism by mentors and experts from the US tech industry. "The girls saw their idea analyzed from an accessibility viewpoint, for example, that it had to give access to sight-impaired people and make them able to navigate the app," Ana recalled. "They took notes and now they are making improvements," she said.
Two girls from the team are still in their last year of high school, while one team member has been admitted to the IT faculty of the University of Bucharest. Moldova and Romania share a common language, so studying there presents few problems for Moldovans. One of the girls still in high school has indicated she wants to study economics – something that will help her analyse companies and make business plans for new enterprises – high tech or otherwise.
Ana said she was pleased with her mentoring role both at Technovation and in earlier efforts to get girls involved in tech-related entrepreneurship. She said that "two years later 14-16-year-olds who participated in the first edition of Technovation Moldova are still interested in tech, they went to coding and IT camps, and some have even applied to tech-related university faculties in Moldova."

Moldova on the global tech map?
While volunteer mentoring takes up a lot of her time, Ana said that she does have a "day job" to pay her bills – and it is also at a non-profit organization. She is the communications officer at AFI: Act for Involvement, an organization whose mission statement says that it "builds bridges to ensure access to healthcare services for vulnerable persons affected by tuberculosis (TB) or HIV/AIDS and other diseases that have a major social impact. It seeks to do this hrough innovative services, advocacy and community mobilization."
Still, Ana's dream is that "some next great thing in global tech will be made by a girl from Moldova."
Date added: 08.09.2017