"Alumni Study Space" - great initiative of SSE Riga Alumni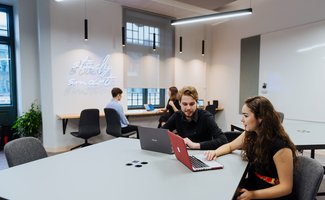 Dear Alumni, thank you very much for helping to create an environment that continues to inspire the next generations of SSE Riga!
Just next to the Student Association room we now have a very cozy study room for students. The room is called "Alumni Study Space" as a reference to always present alumni community who fully financed the construction of this room. The study space is designed to be especially suitable for collaborations and socializing. At the symbolic Opening Ceremony, everyone could make sure that the outcome is truly beautiful - happiness and productivity guaranteed!
Date added: 22.09.2020