Alumni Discussion Club Event: "Managerial and entrepreneural activity of SSE Riga Alumni in Latvia"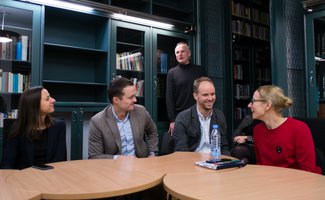 Alumni Discussion Club events provide an opportunity for meeting, sharing experience and learning.
On January 16th Anete Pajuste, PhD, Associate Professor at SSE Riga (and SSE Riga alumni) presented the results of her research on "Managerial and Entrepreneurial Activity of SSE Riga Alumni in Latvia".
Anna Andersone (start-up enthusiast, Founder of "Be-with" ) Martins Popelis (Co-Founder VP Products at Sonarworks), Maris Simanovis (Chairman of the Board of Eco Baltia grupa) and Karlis Sprogis (Founder of FasterCourse.com e-learning templates marketplace) shared their success stories as well as pointed out the things which they, possibly, would have done differently. The presentations were followed by the interesting Panel discussion and network.
Date added: 18.01.2018