All Estonian first year students will receive a scholarship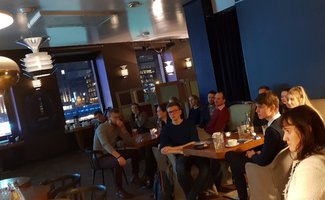 As the past few years have seen declining application numbers from Estonia, active Estonian alumni, led by Avo Kaasik, are considering how alumni could reverse this trend.
The alumni gathering on February 27th in Tallinn with Anders Paalzow and Morten Hansen was followed by Estonian Alumni and student visits to high schools around Estonia to promote SSE Riga as the best business school in the region.
The presentations also highlighted the commitment by the Estonian Alumni community to cover each Estonian student's first year tuition fee. This generosity and commitment to SSE Riga manifested by the Alumni donation further convinced several applicants that SSE Riga is the right place for their further studies.
All this resulted in 10 students from Estonia getting invitation letters from SSE Riga and hence a donation by the Estonian Alumni amounting to 39 000 euro.
Date added: 30.05.2019