Address by Baiba Rubesa at the SSE Riga Alumni Association Homecoming 2018 Presidents' Dinner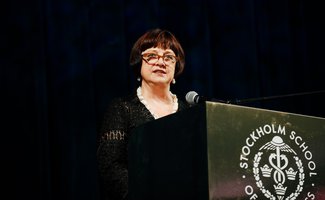 The Rail Baltica project is actually as old as the Stockholm School of Economics in Riga!
On November 2nd, 2018, the SSE Riga Alumni Association organized a special gala evening to celebrate the notable accomplishments of SSE Riga alumni and the 24th anniversary of SSE Riga. It was a great honour to have Baiba Rubess as a special guest at this event.
Please follow the "more info link" to read the address of Baiba Rubesa.
Date added: 15.11.2018