SSE Riga Alumni Club events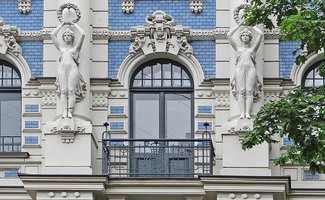 Engage with SSE Riga alumni by participating in alumni events
This autumn SSE Riga launched a new initiative as part of its overall activities to strengthen its relationship with alumni. Rector Anders Paalzow invited alumni from different classes to join alumni discussion evenings, and so far two events have been organised.
"These two events captured very well what we had in mind," says Anders Paalzow, further explaining that "the alumni discussion evenings could be either more research-based, presenting research that could be of interest to SSE Riga alumni, or more policy-oriented, with a focus on issues of relevance to our alumni."
The first discussion evening featured Girts Racko (pictured), an Associate Professor of Organizational Behaviour at the Warwick Business School (WBS), who presented research on the values of SSE Riga students and how they are shaped during their studies.
The second discussion evening was devoted to the topic of K-12 education with a focus on policy and the development of the Latvian school system. Three SSE Riga alumni were featured on the panel – Kārlis Andersons (Class of 2004), Anete Pajuste (Class of 1997) and Igors Grigorjevs (Class of 2009) – who all have professional experience within the education field.
Date added: 01.11.2017