Martins Mellens - Working with the best and the boldest in Dubai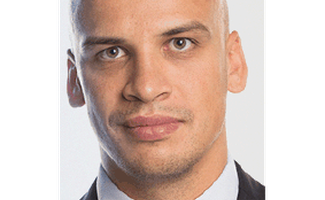 Martins Mellens graduated from SSE Riga in 2005 and proceeded to successfully go nowhere, to not even leave the part of Riga where the School is situated for several years. Now he has been working in Dubai for several years and looking, in the medium to long term, to come back to Latvia to promote entrepreneurship.
Martins is now a Senior Engagement Manager for the global consulting company McKinsey and has been based in Dubai, one of the United Arab Emirates, since 2013. It was a longing for more knowledge and experience that kept him on Strelnieku Street for a few more years and then cast him out into the world.
After leaving SSE Riga, Martins worked in finance and soon ended up working for Swedish-owned SEB Bank after some time at some smaller companies. That put his office practically next door to SSE Riga and got him thinking about what was needed for a serious career in finance.
Back for a future at the Graduate School of Law
"Working for an investment bank, I saw that I needed multiple skills, to be a cross-field expert," Martins said in an interview via Skype from his Dubai office. "People in finance need to know a lot of law, so I decided to obtain an LLM degree (Master of Laws) in Riga at the Graduate School of Law, next door to SSE Riga and practically sharing the same campus," he recalls. Since the SEB office where he worked at the time was practically in the same building as his school, it was possible to combine studying with a full-time job.
"I did full-time learning but had to be physically in class only four days per month. The rest was online distance learning, so I never quit work while doing my LLM," he said.
Even the LLM wasn't enough for the full-time worker/student. Martins got his law degree in 2010, while Latvia and the rest of the Baltics were still suffering from the economic crisis of 2008/2009, so job prospects were not good and after some international job hunting which produced, to use a fishing analogy, some serious nibbles, Martins decided he needed a globally known business degree to cap his education CV.
Among other places, he applied to the London Business School and to the IESE Business School in Barcelona, Spain. Both were top rated, but Martins chose IESE because it used the Harvard Business School case method for teaching, where the learning process is close to a real executive's work (and, indeed, is based on real business situations). While in Spain, Martins also chose to learn Spanish to better enjoy his time there, absorbing the local culture and communicating with the people. It also proved to be a valuable language skill for the job market.

Sweden, Switzerland, Bavarian "shoe wars" or Dubai?
Upon graduating, Martins got several job offers: one with the telecommunications group Ericsson in Stockholm, another with a Swiss private equity company, and one of the more fascinating ones – to work at an in-house venture capital-type organization for the sports shoe and clothing company Adidas. Taking the job would have meant moving to the small Bavarian town of Herzogenaurach, where practically the entire population was involved in the shoe and sports apparel industries – and not just with one company. The town also housed the headquarters of the rival sports shoe company Puma, which was founded as a result of a feud more than 60 years ago between the two Dassler brothers, with Adolf or Adi going on to start Adidas and his estranged brother Rudolf setting up Puma.
Quaint and strange as life in Bavaria between the legacies of two shoe tycoons might have seemed, for Martins it would have been a big change from the big city Barcelona and he decided to take the fourth job offer before him – from the global consulting firm McKinsey & Company. McKinsey also presented him with a menu of possibilities for assignment – from Latin America, where he could use his Spanish skills, to Moscow or Dubai. Buenos Aires, Argentina, the location for one possible assignment, seemed too far away from Latvia and Europe at the time, and Martins had already worked in Moscow briefly, but found that "it was not my place." So, it was Dubai.
"I had never been to Dubai before and I liked it, it has unparalleled dynamism and drive. There is a large amount of investment and opportunities for people who want to do investment strategy first-hand, advising cutting edge investments," Martins says. Dubai is also on the cutting edge of technology. It is looking into building a near-supersonic Hyperloop magnetic levitation transport link to its neighbouring emirate of Abu Dhabi and wide use of driverless vehicles is planned.

Working with the best and the boldest
Why did he choose McKinsey? "It was an obvious choice; they are the best and boldest who take on the hardest problems and the most challenging situations," he said, "The work involves dealing with shareholders, corporate boards, the highest or C-level executives, with different sets of problems, thinking five years ahead. In turbulent times problems get tougher – we have to be the provider of solutions that the CEO cannot solve by him/herself."
Management consultants also deal with transformational projects, such as when the market or the business model for an established company starts shifting – for "brick-and-mortar" retailers: to online sales and future automated delivery. Martins pointed to Microsoft as a company that started selling operating systems and software packages and is now heavily involved in cloud computing services and makes hardware, such as gaming consoles. In longer-term projects, consultants may be asked to design the waste and sewage systems for cities in the desert that have yet to be built.

Back to Latvia to boost entrepreneurship?
Asked what he plans for the mid to long term, Martins said that returning to Latvia was one of his top priorities. "People with a good education, experience, and networks should come back to Latvia and get involved in entrepreneurship. Coming back is in the plans. It is hard to find a motivating job working for someone else in the small market, but entrepreneurship, building 100% export-oriented companies – my priority number one is to figure out the scenarios for doing this," he explained.
For the immediate future, there is still much to be done and experience to be gained with McKinsey, where consultants can get assigned to bigger and more challenging projects as they grow within the company. The work remains hard – "the carrot just gets bigger, but the distance to reaching it doesn't change," Martins observed.
One possibility, given his regular contacts with Latvians involved in the start-up scene, is seeing if there are markets in the Middle East for Latvian entrepreneurial skills with regard to the young, dynamic market there. Latvian entrepreneurs should wait for that call or e-mail from Martins Mellens.
Date added: 28.08.2017