The 25th Anniversary Speaker Series: Petr Aven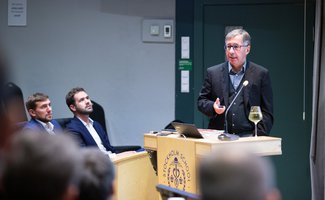 A special alumni event with participation of Petr Aven was organized on September 19th at SSE Riga. Petr Aven talked about major challenges facing the world and discussed increased volatility, population dynamics, inequality, potential impact of future technological developments, and growing uncertainty around government policy and regulation. Mr. Aven stressed that creating conditions that retain talents and prevent the brain drain from the Baltics should be among the priorities in our region.

For the last 25 years it has also been the mission of SSE Riga. Petr Aven is the Chairman of Alfa-Bank where he served as President & CEO in 1994-2011. Prior to joining Alfa-Bank, he served as the Minister of Foreign Economic Relations of the Russian Federation (1991-92). Mr. Aven is the Chairman of the Board of Directors of the New Economic School (part of the FREE network), a member of the President's Council on International Activities at Yale University.
Date added: 23.09.2019