Alumni Event with Aleksandra Klein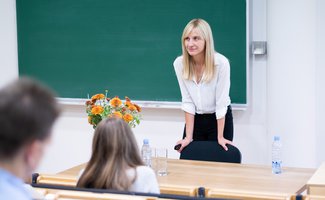 Alumni Discussion Club event on "Creative organizations and where to find them" with Aleksandra Klein (BSc Class of 2010).
Aleksandara Klein talked on the role of creativity in modern economy as well as the topics of future jobs and work environment, accounting for such trends as digitalization, millennials and internal organizational mechanisms that facilitate organizational transformation.
Dr. Aleksandra Klein is Assistant Professor at the Institute for Strategy and Managerial Accounting , Department of Strategy and Innovation, WU Vienna University of Economics and Business. In addition to her research and teaching at WU, she has gained teaching experience in several prestigious European business schools and has been involved in numerous research projects on management accounting practices in unconventional and innovative settings with collaborators from both academia and industry.
Date added: 30.09.2019